Season of Tebbs
---

By Appointment
15 November 1978

The staff come filing back from holiday, each transformed a bit: Cpt. Peacock's got laryngitis; Mrs. Slocombe has broken a sun blister on her nose with a sangria goblet; Lucas hobbles in on crutches, having burned his feet in a romantic encounter; Miss Brahms is sporting a posh accent, and Mr. Rumbold's pate has lost its battle with a coconut.

But the biggest transformation is the disappearance of Mr. Ernest Grainger and the arrival of his replacement, whose impressive work history is recited as he parts the Fitting Room curtains and waddles for the first time into Gentlemen's Ready-Made:

Ten years in Bathroom Fittings; three in Footwear; almost entirely responsible for modernising Greeting Cards & Novelties;
four years in Bedding. Oh, and eighteen months in Soft Furnishings. Enter Percival Tebbs, new senior assistant.

Before the plot proceeds -- the Royal Couple are to pay a visit to the borough, and may drop into Grace Brothers -- Tebbs meets his colleagues (introducing the "move"), then holds an impromptu handkerchief-fluting workshop. "Take care of the little things," he
tells his juniors. "Big things take care of themselves."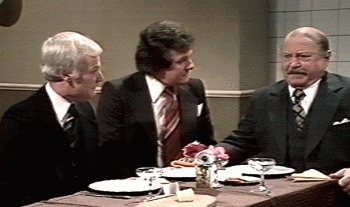 At lunch in the Canteen he recounts the day he sold seven simulated-antique silent-flush toilet suites in one day and, regarding Lucas, confides that he finds "these young people with their communist attitudes very tiresome." Once he returns to his counter and delegates Humphries to acquaint the staff on royal etiquette, however, the new senior assistant blends in with the staff as they prepare for -- and ultimately ruin -- the event.
Notes: We learn in this episode that the introduction of beanbags prompted Tebbs' resignation from Soft Furnishings, and that he considers Lally & Willet's a "cheap store." And where did "fluting" come from? That little ritual, recalls Croft, "was practiced when Jeremy Lloyd worked for Simpsons in the Strand -- a well known gentlemen's outfitters in England but very recently defunct."
---

The Club
22 November 1978

His full attention turned to re-napping a homburg, Mr. Tebbs misses the made-to-measure coat for Little Roger -- and the surprising demonstration of the Flexi-Bra -- but is front and center in the Canteen for the debate on the staff's proposed social club. "I think we all see enough of each other during the day," he grumbles, "without meeting again after hours." Once the decision is made to go ahead, however, he insists no one be admitted without their club tie. And he threatens to resign if a jukebox is installed. "I cannot stand all that 'hi-baba-ree-ba a-root-doot-poop,' " he says, "and neither can Mrs. Tebbs."

But the prospect of sharing in a 300-quid decorating fee prompts his helpful suggestions during the planning stages ("When it comes to the floor, Mrs. Tebbs is very hot on linoleum") and his enthusiastic participation in decorating Room 5, Young Mr. Grace's former air-raid hideaway.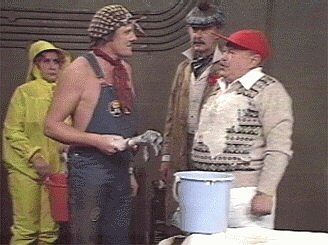 Nicely turned out in Bermuda shorts, plimsoles, and a long-billed red cap, Tebbs demonstrates his prowess at applying wallpaper paste ("Don't teach your grandmother how to suck eggs," he tells a meddling Peacock). But when the muck starts to fly, we see that, even for the upstanding Mr. Tebbs, dignity can yield to lechery when the opportunity presents itself.
Notes: What made Britain great? Ping-pong, according to Tebbs. And we see in this episode that only Mr. Grainger made more noise at lunch. Best epithet (to Mr. Lucas): "Careless monkey!"
---

Do You Take This Man?
29 November 1978

"Where do we get a Greek vicar?" That question launches Mr. Tebbs into the adventure he perhaps is best remembered for.

When he hears that the head of Ladies' Intimate Apparel is to be married, Tebbs is quick to offer his felicitations. "Mrs. Slocombe, I've always had a great affection for you," he says. "Does this mean that we're going to lose you?" But when she assures him it does not, his reply becomes a bit more characteristic. "Oh. Damn it."

But when Mrs. Slocombe's betrothed, a "Greek banjo player" named Metaxis, leaves her at the altar, Tebbs proves no more stoic than Humphries or Miss Brahms, for all three burst into tears at the sight of the resplendent but oblivious dowager.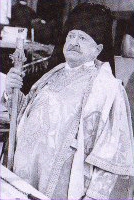 Still, the staff carries on with the wedding plans so that the bride can receive the house promised by her American uncle, who's flying in for the event.
After delegating Humphries and Lucas as groom and best man, Rumbold taps Tebbs to play the role of "Archbishop Halitosis," as Harman calls the portly figure in "very regal curtain material" and a lacquered-up chef's hat, and by the power vested in him by the British Boys' Annual, the ersatz cleric memorably joins Mrs. Slocombe and the man from "Pooftos."
Notes: Why the Salesfloor for the reception? The Board Room was engaged; Young Mr. Grace was throwing a bash for his favorite charity, displaced nightclub hostesses.

---

Shedding the Load
6 December 1978

"Long in the tooth, broken wind; age and weight go against this runner. Fifty to one!" Such is the handicapper's assessment of Percival Tebbs' chance of escaping staff reductions in this tale of slipping sales figures.

First comes the preliminary round, with Rumbold presiding over a "worker participation" meeting to decide which worker goes to the Knacker's Yard. It's a bruising affair: Slocombe is called a "crabby old cow," Humphries a "fairycake," and Tebbs is told he is "past it" (although he is subsequently assured "there is minutes left" in him).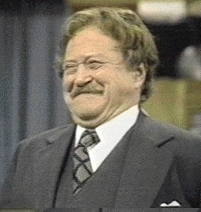 But the real moment of truth comes when Young Mr. Grace arrives to oversee the final selection and the newly toupeed senior assistant rises to hear his record at Grace Brothers. His long tenure in Bathroom Fittings is cited, during which he received 76 citations for selling complete marbleised bathroom suites, and his 1968 long-service award of a pen-and-pencil set ("It was a memorable day," he recalled, misty eyed. "Mrs. Tebbs got drunk").
The list of honors continues: captain of the Bowls Club; secretary of the Darts Club; tireless worker for the Benevolent Fund for Distressed Salespersons; recipient of a 1976 tea party in the Board Room. To Young Mr. Grace, it sounds like "a bloody boring life," but to Tebbs, it has been "a long, glittering career" from which it is now time to step down, despite unfinished business in Bangor.


---

A Bliss Girl
13 December 1978

One spends the first half of this episode wondering what's become of Mr. Tebbs. The rest of the staff has staggered in from the fog: Peacock, after traveling eight miles on the running board of Young Mr. Grace's Rolls-Royce; Lucas, who hops downstairs in his sleeping bag after a night in the Camping Department and frightens a nun; Humphries, in wetsuit and snorkel gear, fresh from a fracas with a buoy at Battersea, and finally Miss Brahms and Mrs. Slocombe, who removes her gas mask to complain that her pussy's been gasping all night. But no Tebbs.

He's still missing when the staff visits Rumbold's office after a skirmish between Cpt. Peacock and Mrs. Slocombe. The department head sorts things out, in his way, then explains the temporary installation of a Bliss perfume counter in Ladies' Intimate Apparel and appoints Humphries to fill in for the no-show Bliss salesgirl.

When we finally see Tebbs, he is in a foul mood. The new arrangement -- and an upbraiding by Cpt. Peacock for calling him "Stephen" during working hours -- prompt a fit of pique during which the senior assistant mucks up the glove drawer Lucas has been tidying, then the tie drawer. And a meddling Peacock soon has the contents of the sock drawer flung at him.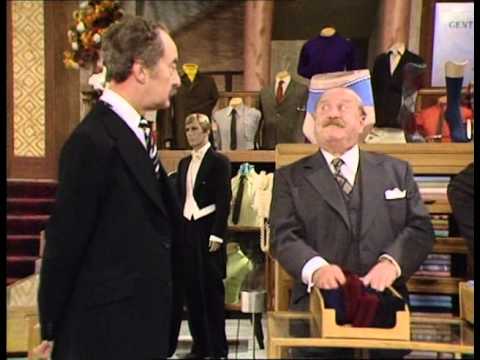 It's back to Rumbold's office, where Tebbs airs his grievance. "There would be raised eyebrows in the trade," he insists, "if it were found out I'd been alone in the Gents' with a junior."
Rumbold agrees and selects Peacock to assist behind the Men's counter, but it is the transplanted Humphries who steals the rest of the episode, first with his attempts to stuff a display bra, then his competition with Mrs. Slocombe to sell a fur coat to a woman who'd only come in to complain about her stockings.
Notes: Young Mr. Grace's stress indicator gets another workout in this episode, and we learn that that new boys are debagged down in the Stock Room; that Humphries' school was mixed (just boys); that even nuns hitch up their skirts when hurrying up the stairs, and that Mrs. Slocombe does not respond to any man's finger.
---

Happy Returns
26 December 1978

Tebbs' fear in "Shedding the Load" -- that after his "long, glittering career," further efforts could only be an anticlimax -- seems to come true in this episode. It's a holiday offering, and the senior assistant of the Men's counter keeps mostly in the background as the staff prepare a musical number for Young Mr. Grace's birthday party.

They say that Old Mr. Grace doesn't get about much anymore, but the same can be said for Tebbs in the "Dance of the Toys." He sleeps through most of it, snug in a Teddy Bear costume with its head askew (the better to hear). And when a cabaret troupe hired to entertain the staff show up in the same costumes, and Humphries resorts to "fairy dust" to transform the staff into spangled top hat and tails to perform "Steppin' Out," the apparently less-agile Tebbs is sidelined for most of the fancy footwork.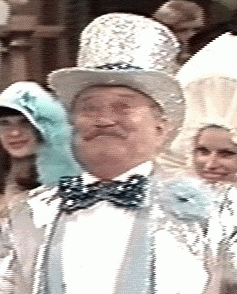 He joins his colleagues for the final bars, though, with a smile on his face and a waddle in his step.
Mr. Percival Tebbs, senior assistant of Gentlemen's Ready-Made, is last seen in the closing credits, bursting his balloon.
Notes: In this episode, we learn that Rumbold's predecessor, Mr. Prentiss, was well respected and would never have worn odd socks, and that according to cheese graffiti, Mrs. Slocombe had a thing for Cpt. Peacock in 1964. And the waste of spilled champagne sets off Young Mr. Grace's stress indicator in its final appearance.