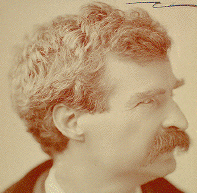 Samuel Langhorne Clemens was born -- two months prematurely -- under Halley's Comet on Nov. 30, 1835 in Florida, Missouri. Eleven years later, when his father died, he became an apprentice in his brother's print shop, after a few years leaving to take jobs in St. Louis, New York and Philadelphia.

In 1856, he moved to Cincinnati, where he hatched a plan to travel to South America to collect coca leaves. But the riverboat ride to New Orleans so impressed him that he gave up his quest and prevailed upon the pilot of the boat to teach him to navigate the Mississippi. Here he first heard the expression "mark twain" (a boating term meaning two fathoms), which he adopted as his pen name, first affixing it to a humorous travel letter in 1863.

Later, after a two-week stint in the Civil War (he volunteered for the Confederacy), he prospected for gold, worked in a silver mine, traveled the South Seas, lectured and worked as a reporter and editor. By 1865 he found his first success when The New York Saturday Press published his story "The Notorious Jumping Frog of Calaveras County." He moved to New York in 1867, where he met Olivia Langdon, his wife-to-be, and flourished as a lecturer and humorist. In that same year he was a passenger on the first "luxury cruise" to Europe and the Holy Land, and related the party's misadventures in letters to the New York Tribune and the Herald. He later worked these reports into his first book, The Innocents Abroad, which became an immense success.

Over the next few years, living at various times in Greenwich Village, on Fifth Avenue and in neighboring Riverdale, as well as more spacious quarters in Hartford, Connecticut, Twain produced his major novels. He made money in the publishing business with his in-laws (and was able to hand U.S. Grant's widow a $200,000 check -- the largest to date -- for the late general's memoirs), but after that he invested heavily in a mechanical typesetter that eventually proved unworkable, and by 1894 he was deeply in debt. Twain's close friend, Henry H. Roger (a Standard Oil "robber baron" whom Twain admired because "he owns up to being a pirate") took over Twain's finances and sent him off on a lecture tour that took him from Cleveland to Capetown, South Africa, and a few years later Twain returned to New York in the black (although by this time he had begun wearing his trademark white linen suit).

But personal tragedy plagued him. One daughter had died while he was abroad; his wife died in 1904, and his two other daughters were in and out of "institutions." His writing took on a darker tone, and in works meant for posthumous publication, he attacked politicians, religion, the Southern "lynch mentality" and various sinister aspects of humanity. But despite the lucklessness of his final years, he had become the poet laureate of New York, if not the nation -- beloved, feted and customarily consulted on great and small issues of the day. As Twain had prophecized, when he died in Redding, Connecticut on April 10, 1910, Halley's Comet was again blazing through the sky.