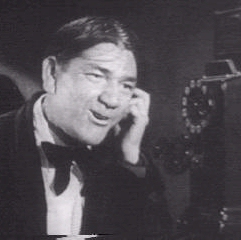 Schmool Horwitz was born St. Patrick's Day, 1895 in Brooklyn, son of Jewish immigrants Solomon and Jennie Horwitz. The boy's name was anglicized to Samuel, then shortened to Sam, and his friends, when they heard his mother yelling for him in her thick accent, imitated her and started calling him Shemp.

Four brothers followed closely: Jack, Irving, Harry and Jerome. Young Shemp was a wild cutup and class clown, but he settled down after grammar school, working odd jobs until his brother Harry Moses, long nicknamed Moe, also decided to forego secondary education, and in 1911 the two enrolled in trade school, Shemp to study plumbing and Moe to become an electrician. The brothers didn't last long there, nor in the jobs they took afterwards, and in 1913 the two decided to try show business -- Moe enthusiastically and Shemp reluctantly. They wrote a short comedy piece and, after Americanizing their name to Howard, performed the skit on amateur night at Brooklyn's Bath Beach Theater.

Although details of the performance are lost, it is remembered the pair was thrown off the stage after three minutes. But they kept at it and soon enjoyed a modest local success, interrupted only when Shemp was drafted. He was back in the act two weeks later, though, after his bedwetting was discovered. By the time former schoolmate and Vaudeville comedian Ted Healy encountered the Howard brothers one night in 1922, they were performing a routine on the RKO circuit and, simultaneously, a blackface act on the competing Loew's circuit. Healy, needing a replacement for one of his "stooges," called Moe and then Shemp out of the audience, and the pair fractured the audience with a hilarious ad-lib routine. Healy hired them for the act, and three years later he took on another stooge: Larry Fine (nee Feinberg).

In 1925 Shemp married Gertrude Frank, and they had a son, Mort, two years later; Gertrude's nickname was "Babe," the same name the Howards called their brother Jerome, so they rechristened him "Curly" for his handsome head of hair. In 1930 Healy and his stooges went to Hollywood to perform in Rube Goldberg's hit film Soup to Nuts, and appeared in several other films before the stooges left to form their own act, "Three Lost Souls." They hooked up with Healy again for another Shubert musical in 1932, but Healy quit the show in a contract dispute and took Moe and Larry with him. Shemp, who'd had his fill of the tempermental Healy, struck out on his own, and it wasn't long before Vitaphone Pictures started casting him in short comedies, and in 1934 the studio signed him to play Knobby Walsh in a series of Joe Palooka shorts.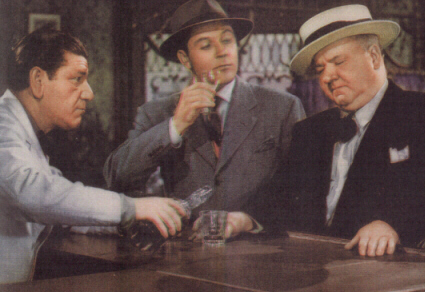 In 1937, now well established in Hollywood, Shemp opened the Stage One restaurant there and embarked on a string of comedy roles for Columbia Pictures and later RKO, MGM and Monogram. By 1940 he was also working for Universal, where he acted in such films as Buck Privates and The Bank Dick (right). Meanwhile, by 1934 Moe and Larry finally had had their fill of Healy. They left him, recruited brother Curly, now comically shorn, called themselves The Three Stooges and launched their own series of shorts at Columbia featuring violent slapstick humor. But when Curly suffered a stroke in 1946, Shemp stepped in again and made 70 more films with the Stooges (the act's 25-year total is a record 200 films).
Those who knew the Stooges say Shemp was the nicest, the most normal and the most naturally funny of the Howards. Critics perennially debate the relative merits of Curly vs. Shemp, and to those unmoved by Shemp's skittish, flippant, diffident character, his trophy-jug ears, stringy hair and homely mug, Curly's antic exuberance usually wins out. But later scripts generally were better written, mining, as they did, the vast lode of Shemp's myriad phobias. He was afraid of water, afraid of heights, afraid to drive, afraid to ride in a car. He wouldn't get on a plane, he jumped at every noise, and he was afraid of every dog but his own Collie, Wags.
How did Shemp Howard die? The popular version is that on Nov. 23, 1955 Shemp went to the horse races and later to a prize fight -- two favorite pastimes -- and afterward was sitting in the back of a car with some cronies, smoking a cigar and joking, when he suddenly slumped over and died, with a smile on his face, of a cerebral hemorrhage. But a contemporary newspaper account states he died of an "acute coronary occulsion" as he was being driven from his North Hollywood home to a hospital in Burbank. He left a widow, a son and two brothers, Benjamin and Moe.