McCartney's Guitars, Part 4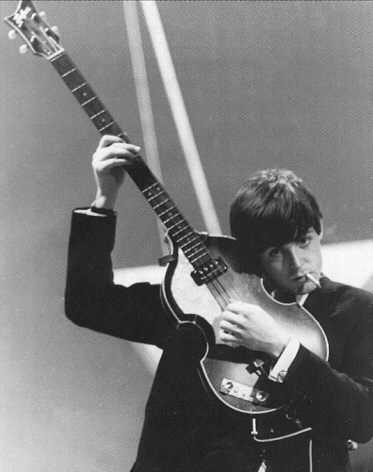 1963: 1963 Hofner 500/1 bass: Hofner had updated its violin bass in '62, and in '63 gave one to McCartney. First use: Ready, Steady, Go! broadcast, 4 October. Variations from his first bass include the neck (two-piece rather than three-piece); machine heads (two-on-a-strip open-back as opposed to single open-back "rugby ball" tuners); pickups ("staple-top" rather than "diamond logo," with one of the two moved nearer the bridge); headstock logo (horizontal script rather than vertical lettering); body (round back rather than flat), and fretboard dot inlay (to the 21st fret rather than the 19th).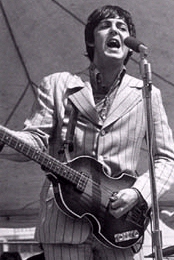 Although by '65 he'd switched largely to the Rickenbacker bass for studio work, McCartney appeared and recorded with this Hofner from "I Want to Hold Your Hand" through Let It Be and beyond. Some time in 1966 he removed the pickguard, and its last Beatles action was the Apple rooftop session, complete with a "Bassman" sticker from his speaker cabinet (photo below). McCartney resurrected this bass at Elvis Costello's request for Flowers in the Dirt, and later for tours, comparing it to Charlie Chaplain's cane: "You just expect to see it."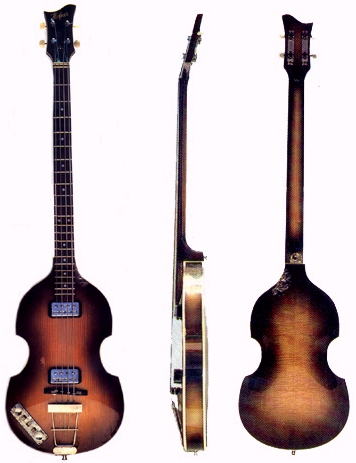 ---

The '63 Hofner today. McCartney had strap buttons added so he'd no longer have to "dog-clip" one end to the tailpiece and tie the other end around the heel and under the fretboard. This old workhorse still has the set list from the '66 tours taped onto it; it reads "Rock & Roll," "She's a Woman," "If I Needed," "Tripper," "Baby's in Black," "I Feel Fine," "Yesterday," "Wanna Be," "Nowhere Man," "Paperback" and "Long Tall."
(c)2000 - 2015 John F. Crowley