Lennon's Guitars, Part 5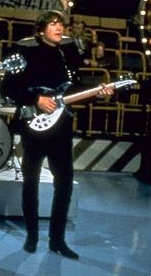 1964: 1963 Rickenbacker 325 Jetglo (black). Serial No. DB-122. This updated, solid-top 325 was designed with Lennon in mind but not yet ready when Rickenbacker president F. C. Hall arrived in New York to meet with the Beatles before their Ed Sullivan debut. Hall had heard about the British band using his guitars, and had tracked down Brian Epstein, and arranged a private meeting, to which Epstein, probably with an eye toward replacing Lennon's battered Hamburg 325, readily agreed. (To this meeting Hall also brought an electric 12-string, which the group schlepped over to an ailing George Harrison, and a prototype Model 4001 bass, which Paul McCartney passed on, as it was right-handed! Lennon's new 325 -- updated with an extra fine-tune knob, double-layered pickguard, improved vibrato and slimmer body -- was shipped to Lennon at the Deauville Hotel in Miami Beach in time for rehearsals for the second Sullivan broadcast and immediately took over from the "Hamburg" 325 as Lennon's workhorse; it saw action right up until late '65 tours, after which it served as a backup. Temporarily out of action after Lennon dropped it at the Hammersmith Odeon during a '64 Christmas show and cracked the headstock. Last reported on display at the John Lennon Museum in Japan, where it still has a nasty crack near the machine heads.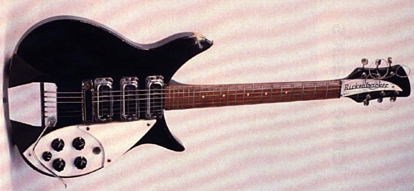 . (photo courtesy of Frank Trevino)
* On Lennon's '63 Rick (right), he bent the vibrato arm, presumably to get it out of his way. When this model went into production it sold for about £400. Rickenbacker has introduced a faithful replica, the 325C63.
* First album use: A Hard Day's Night. Last album use:

Double Fantasy

? Rick Nielsen reported spotting this guitar and playing it a bit during those sessions in August 1980, mentioning "the set list from Shea Stadium scotch-taped to the back of the guitar" [actually it's taped to the top edge], but it's doubtful it appears on any tracks, as it was "unplayable," in Lennon's words.

---
(Check out Glen Lambert's look at the above guitar "In the Wrong Hands." )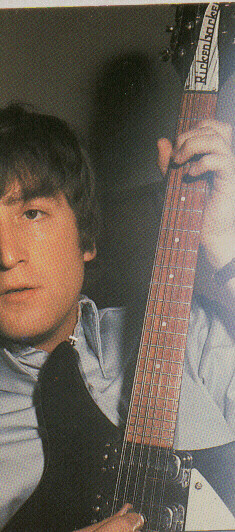 1964: 1964 Rickenbacker 325-12 Jet-glo: At their New York meeting, Lennon asked Hall to make him a twelve-string model to match his 325, and in March '64, Rickenbacker shipped this guitar to him in London. The only differences are the headstock and the tailpiece. This short-scale guitar was used on a Dutch TV show, in the studio (Beatles For Sale) and served as a backup throughout 1964, and saw actual use at a show in Boston on 12 September. Tom Hartman, who recorded in Abbey Road as a young man, recalls seeing it in the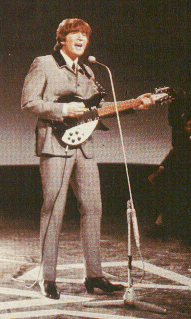 storage area with a set list taped to it. Rickenbacker CEO John Hall remembers "seeing this guitar at one point with a vibrato on it as the model number describes (which didn't work well at all)." Because it made the guitar impossible to keep in tune, the vibrato was removed and replaced with a trapeze tailpiece before this prototype was sent to Lennon. Most recently on display at the Rock and Roll Hall of Fame. Owned by the Lennon Estate.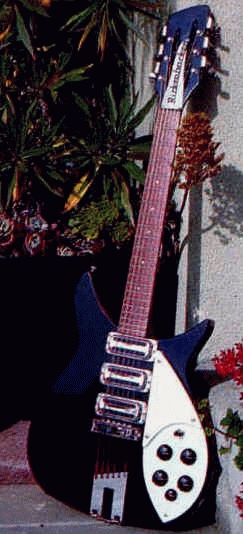 Lennon's Rickenbacker 325-12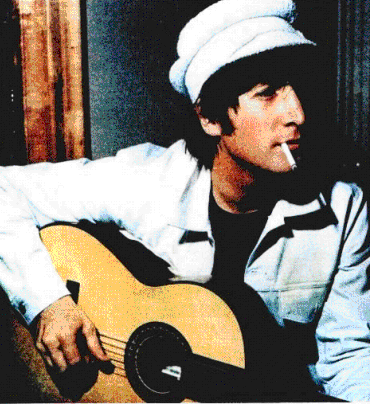 1964:Ramirez A-1 (vintage unknown): Perhaps at the same time Harrison got one, Lennon acquired this nylon-string classical guitar, often called the Segovia model. Probable use in the studio: "Any Time at All," "I'll Be Back," "And I Love Her," "Yes It Is" and "I Need You." Like several other Lennon guitars, its whereabouts is a mystery.
(c)2000, 2015 John F. Crowley