Lennon's Guitars, Part 6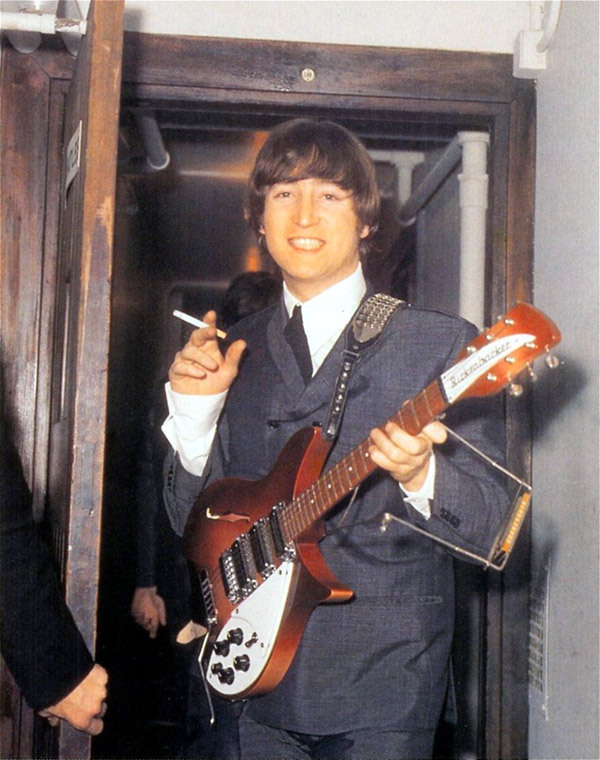 1964: 1964 Rickenbacker 325 (Rose-Morris Ltd. 1996 model), Fire-glo (sunburst finish) f-hole: After Lennon broke his Jet-glo 325, Rose-Morris must have jumped in quickly, because before Lennon could reach for his old 325, the British importer gave him this model, which they then began selling for £166 as the "Beatle-Backer." He used it for the '64-'65 Christmas shows.

Lennon ultimately gave this guitar to Ringo, who broke it out in 2005 for "Satisfied" on Ringo's Choose Love. Details here.
---

1964: Framus 12-string "Hootenanny" acoustic, vintage unknown. This German guitar, model 5/024, sold for just £42. Lennon used it to record "Help!" "It's Only Love" and "You've Got to Hide Your Love Away," among other songs, and it's seen in the performance of the latter song in Help! Last spotted at Abbey Road in July 1969, where Lennon used it for "Polythene Pam." Current whereabouts: Unknown.

---


Harrison also utilized the Hootenanny, which has a trapeze tailpiece and non-slotted head; Framus made many similar models during the '50s and '60s.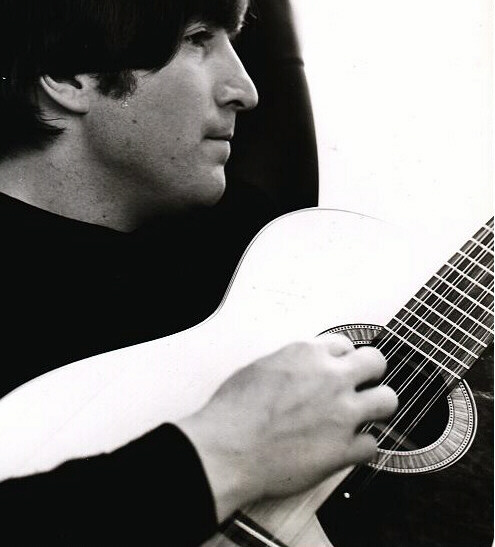 ---
This photo shows the Framus's nicely inlaid soundhole rosette.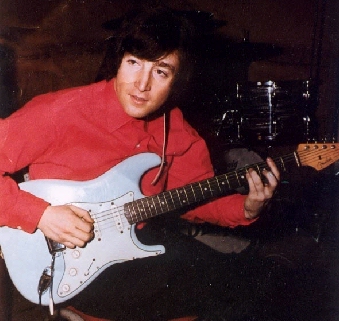 1964: 1961 Fender Stratocaster, Sonic Blue, rosewood fingerboard: One day late in the year, Lennon and Harrison sent roadie Mal Evans out to "get a couple Strats," and Ever-Smiling came back from Grimwoods in Kent with two '61 models in a rare color (reportedly, Brian Epstein had agreed to pay for them if they were the same color). They later put them to work on "Nowhere Man," and used them regularly, including a Sgt. Pepper session (below). Whereabouts unknown, although a similar model with a maple fretboard is seen during the Imagine sessions.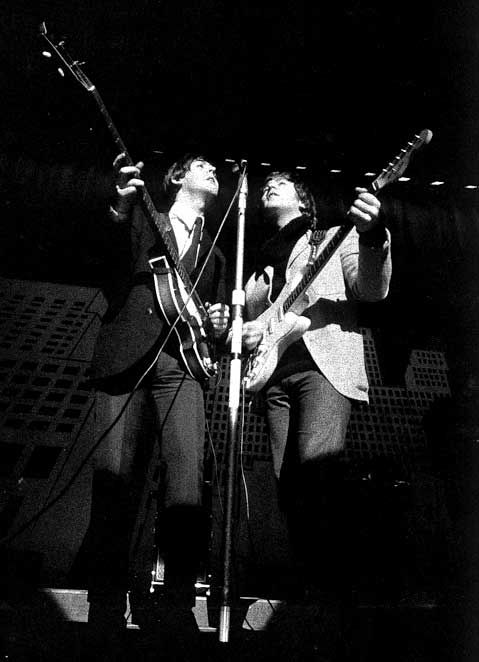 This photo, taken during a sound check in December 1964
, shows the Sonic Blue in a rare semi-public appearance.
(c)2000, 2015 John F. Crowley