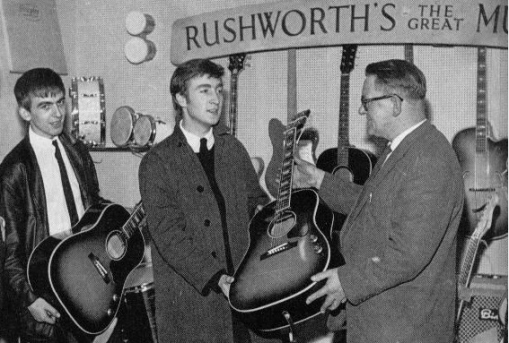 1962: 1962 Gibson J-160E acoustic/electric, sunburst finish. Lennon and Harrison each bought one of these "jumbo" models (price: £161) in Rushworth's Music House in Liverpool, reportedly in September (shown at right with guitar/amp department manager Bob Hobbs). Mersey Beat, in the caption from its photo commemorating the event, noted the guitars were "the only ones of their type in the country -- which were specially flown to England by jet from America." This was probably hyperbole, as they'd taken two months to arrive after being special-ordered. (Additionally, these photos may have been taken a few days after the sale, for they already sport straps and smudges.) These Gibsons were used on the September EMI recording of "Love Me Do," but the June recording of the same song sounds like the jumbos were used then, also, so go figure. Lennon's J-160 E was used through the Please, Please Me sessions, then stolen during the '63 Christmas show at the Finsbury Park Astoria Theatre, London.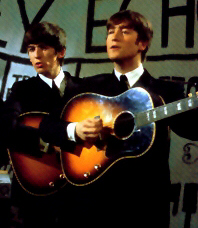 (Pity poor Malcolm Evans, who had to break the news to Lennon.) By this time, however, Lennon and Harrison had gotten their identical guitars mixed up, so it was the one registered to Harrison that disappeared.

However, this guitar surfaced again, this time in a second-hand shop in the U.S.; a fellow named John McCaw had purchased it in the late '60s, apparently not knowing what he had, and sold it in November 2015 for $2.41 million. The moral of the story: Keep checking those second-hand shops, kids!

Note: How rich were the Beatles at this point? Well, Brian Epstein had to co-sign for this guitar, and wound up paying it off after a year. The photo at left, from November 1963, shows one of the last appearances of Lennon's first J-160E. Gibson is offering a vintage re-issue in a limited edition of 250. Sale price: about $3,000.