Harrison's Guitars, Part 8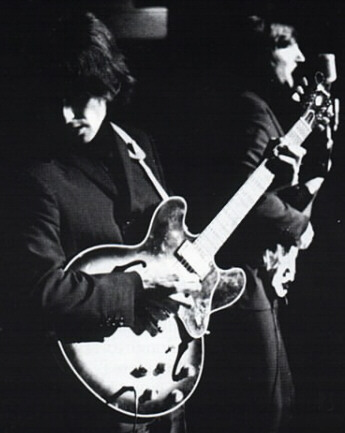 1965:Gibson ES-345-TD (tobacco sunburst, stop tailpiece; vintage '63-'65). It's been reported that one of the Moody Blues loaned this guitar to Harrison after his Country Gent was smashed on a roadway on 2 December '65, but photos from the "Daytripper" and "We Can Work It Out" video session of 23 November show Harrison playing this guitar, so another myth bites the dust. Other photos show him using it on the December British tour, but after that -- nothing.
It doesn't show up in current photos of his collection, so it may just be one of those guitars that passed through his hands. I wish I had more to report, but that's show biz.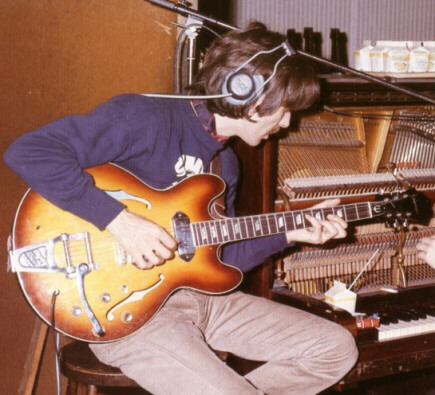 1966: Epiphone E230TD(V) Casino (sunburst) hollow-body electric. Vintage unknown. Very early in the year Harrison and Lennon followed McCartney's lead, so to speak, and bought Epiphone Casinos. Not top-of-the line instruments, but the Beatles just liked them, and made fine use of them during what was arguably their most creative period. Harrison's, like McCartney's, featured a Bigsby vibrato (Lennon's had a trapeze tailpiece). He used it regularly in the studio and on tour through the Sgt. Pepper sessions, and it appears in many of the Beatles' performances, including the "Hello, Goodbye" promo (its last appearance).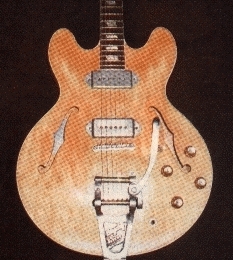 Harrison, as Lennon had done, stripped the finish off his Casino (right). "They became much better guitars," he said in a Guitar Player interview. "I think that works on a lot of guitars: If you take the paint and varnish off, and get the bare wood, it seems to sort of breathe." This guitar hangs on Harrison's wall.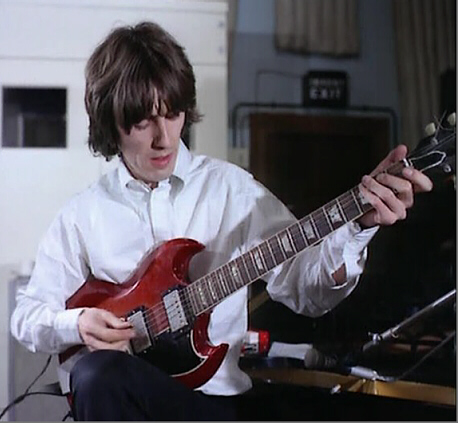 1966: Gibson SG Standard
solidbody, cherry red (vintage 1964?): This guitar, equipped with a Gibson Maestro Vibrola w/ lyre-style cover, was first used during the Revolver sessions, and was featured on the promo film for "Lady Madonna" and the recently reconstructed "Hey Bulldog" video. It makes its only public appearances on 1 May 1966 at the NME Poll Winners concert in Wembley (photo below), and a few weeks later in Munich at the first show on the '66 tour. Sometime in 1969 Harrison gave this guitar to the band Badfinger, and after a dispute, Pete Ham aced out fellow guitarist Tom Evans and kept the SG.

He used it extensively on tour and in the studio, notably on "No Matter What" and "Baby Blue." Just before his suicide in April 1974, Ham left this guitar at his brother John's home. After keeping it stored away, John Ham took it out in 2001 and loaned it to the Rock and Roll Hall of Fame for display. In 2004 Indianapolis Colts owner Jim Isray picked it up for only $567,000 at Christie's. Nice to have money, eh?

Note: This SG is not to be confused with another SG given to Harrison by Eric Clapton but apparently not used in any Beatles project. Also not to be confused with a red SG used by Badfinger bandmate Joey Molland.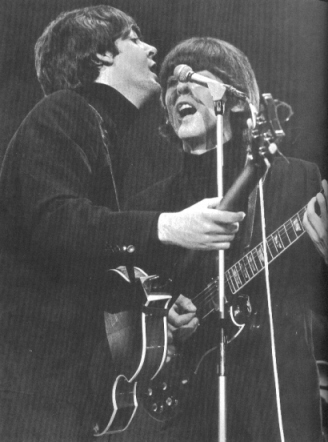 ---

The SG gets some fresh air at what would be the Beatles' last British concert.
(c)2000-2015 John F. Crowley