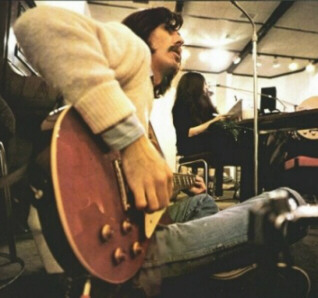 1968: 1957 Gibson Les Paul Standard: Once upon a time John Sebastian of the Lovin' Spoonful had a gold-top Les Paul Standard guitar. It found its way to Rick Derringer of the McCoys, who took the well used guitar back to Gibson and had them refinish it in cherry red. But after that Derringer didn't fancy it any more, so he traded it in at Dan Armstrong's Manhattan shop. Soon Eric Clapton walked in and bought it, and in 1968 Slowhand gave it to Harrison. A few weeks later, Harrison picked Clapton up on his way to Abbey Road, where Harrison had the guitar -- and a Marshall amp -- waiting for Clapton to add his singular lead track to "While My Guitar Gently Weeps."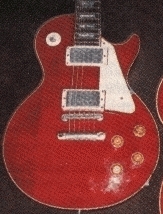 Harrison used this guitar in the "Revolution" promo film and the sessions for Let It Be and Abbey Road (notably on "Something").

In the early '70s, Harrison's Beverly Hills home was burglarized, and the Les Paul stolen from under his bed; it wound up at a Guitar Center store in Hollywood, where a Mexican chap bought it for $650. After the shop owner discovered it was Harrison's guitar, he tried to get it back, but the lucky purchaser wouldn't budge without a personal appeal from Harrison, not to mention a '58 sunburst Les Paul and a bass guitar. Harrison still had this well traveled guitar when he passed on.

---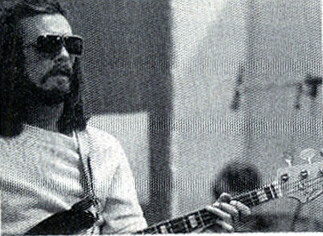 1968:1968 Fender Jazz Bass: Perhaps miffed that other guitar manufacturers were enjoying the glow -- and profit -- of Beatles association, Fender sent the band several amps and guitars, among them a Jazz Bass for Harrison. He used it infrequently, and there are almost no photos of him playing it, but Fender's plan paid off handsomely with another instrument they gave him (below).