Harrison's Guitars, Part 7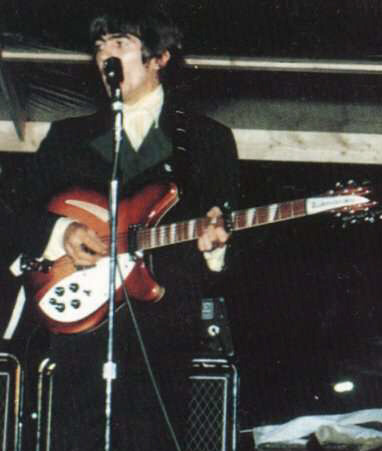 1965: 1965 Rickenbacker 360-12 (Fire-glo). Radio station WDGY finally got its chance to give Harrison a guitar on 21 August 1965, when the Beatles came to Minneapolis. At a press conference (below) this "new style" 360-12 was hand-delivered from that city's B-Sharp Music. ("Where's mine, then?" asked Lennon.) Like the earlier model, it featured deluxe triangle finger board inlays, but had rounded cutaways and checked binding (on the back only), five chrome-top control knobs and an "R" tailpiece. Harrison retired his first 360-12 and used this one for performances and recording (beginning with "If I Needed Someone" on 16 Oct. '65). This guitar was last spotted in March 1969 at the Abbey Road studio, from where it is reported to have been stolen.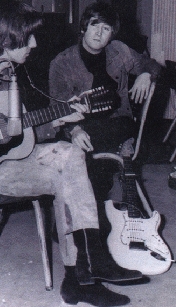 1965: 1961 Fender Stratocaster solidbody, Sonic Blue: Finally, Harrison got that Fender. In the studio one day he and Lennon dispatched Mal Evans to "get a couple Strats," and because Brian Epstein was picking up the bill if they were identical, Evans came back with two '61s in a rare blue color. Used first on "Nowhere Man" and then for the Rubber Soul sessions, and regularly thereafter. In '67, to commemorate the "All You Need Is Love" satellite broadcast, Harrison gave his Strat a psychedelic paint job and nicknamed it "Rocky." "The paint started flaking off immediately," he recalls in the Anthology book. "We were painting everything at that time: our houses, our clothes, our cars, our shop. Everything.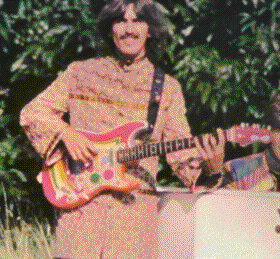 In those days day-glo orange and lime paint were very rare, but I discovered where to buy them -- very thick, rubbery stuff. I got a few different colors and painted the Strat, not very artistically because the paint was just too thick. I had also found out about cellulose paint, which came in a tube with a ball tip, so I filled in the scratch plate with that and drew on the head of the guitar with [wife] Pattie's sparkly green nail varnish." Later in '67 it featured prominently in the "I Am The Walrus" scene in the "Magical Mystery Tour" TV special. In his solo years, Harrison had it set up properly for his slide guitar work, and dusted it off for "Free as a Bird."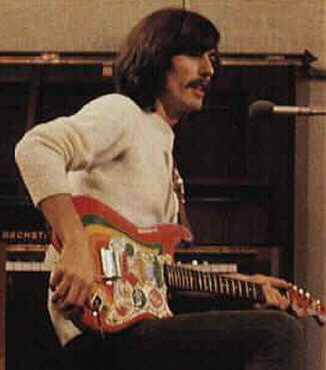 ---

"Rocky"
(c)2000, 2015 John F. Crowley