Harrison's Guitars, Part 6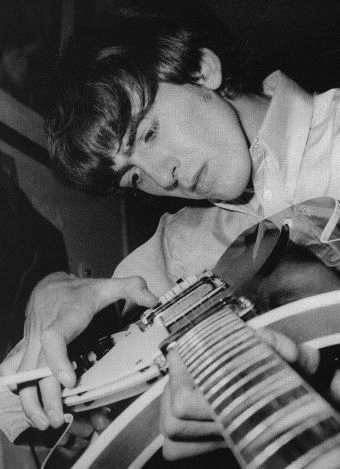 1964: 1963 Rickenbacker 360-12 Fire-glo (binding top and back, triangle inlays, trapeze tail piece). Serial No. CM107. Just after the Beatles arrived in New York for their first Sullivan appearance, Harrison took to bed at the Plaza Hotel with a cold and sore throat while the rest of the lads larked about in Manhattan. One of their stops was the Savoy Hilton Hotel, where Rickenbacker president F.C. Hall had arranged with Brian Epstein to show the band some new instruments, one of them this electric 12-string he'd just developed. Lennon tried it out and suggested Harrison might like it, so the party moved back to the Plaza, where Hall gave Harrison this guitar.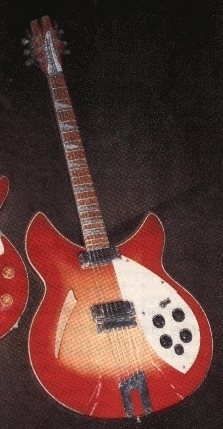 At the time Harrison was on the phone, doing an interview with radio station WDGY in Minneapolis, and as Harrison tried out the instrument, the DJ offered to buy it for him. But Hall had come to give Harrison the instrument, so that was that. Harrison started using this guitar directly the band returned to England, first for "I Should Have Known Better," February 25, followed by "I Call Your Name" on March 1 and "A Hard Day´s Night" on April 16. With the arrival of his second 360-12 a year and a half later, Harrison retired this trend-setting instrument.

Note: Harrison dusted off this guitar for 1987's Cloud Nine, where he played it on "Fish on the Sand." At left, in a photo taken by Harrison: the 360-12 today. Rickenbacker plans to offer a faithful reissue of this guitar.

One of the most innovative features of the 360-12 is the user-friendly tuner arrangement. Björn Eriksson provided this close-up and explained it for me. "The tuners are very much like on a six-string guitar. The difference is just that they are six 'pairs.'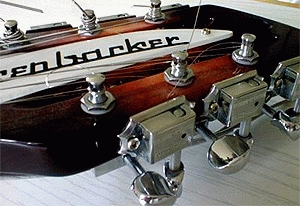 The octave- and root-string tuners are located very close to each other, but at a right angle and not in a row as on traditional 12-strings; this makes it easier to see which string you're actually tuning. The machine heads are, of course, identical on the sides and the back. The Rickenbacker 12-string setup is different from any other that I know of. If you are strumming downstrokes you will hit the lower string (tone) first. A normal 12-string has the octave string at the top."

Photo (c)1988 Björn Eriksson Used by permission. All rights reserved
(c)2000, 2015 John F. Crowley