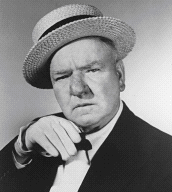 William Claude Dukenfield was born Jan. 29, 1880 in Darby, Pennsylvania, just across the Philadelphia city line. The eldest of the five children of James Dukenfield, an English immigrant, and Kate Felton, a native Philadelphian, Fields lived -- to hear him tell it in later years -- a Huck Finn sort of childhood in which he left home at age 11 (after smashing a crate over his father's head) and survived by his wits, sleeping in a ditch or on a pool table, stealing food and staying one step ahead of the constable. But in fact, "Whitey" Dukenfield, as the blond youth was nicknamed, often squabbled with his father, but he lived with the family until age 18.

Having left school somewhere around sixth grade, he'd worked with his father hawking fruits and vegetables, in addition to other jobs in a cigar store, a pool hall, a newsstand and a department store. More typically, Whitey could be found at one of Philly's several variety theaters, for he had taken a keen interest in juggling. Touring the circuits then were such notables as Charles T. Aldritch and O.K. Sato, Comedy Juggler, but one in particular seems to have inspired the boy most: Paul Cinquevalle, the Prince of Jugglers, a mustachioed American showman who juggled plates, cannon balls, umbrellas, even tables and chairs.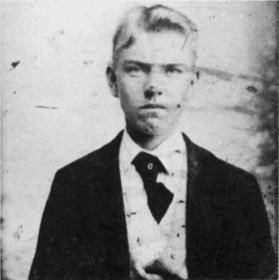 Young Dukenfield began practicing fervently, starting with his father's produce, and worked up routines with balls, hats, cigar boxes and a cane. Thanks to his tenure at the pool hall, he also perfected a host of billiards tricks. But, determined to make his act stand out, Dukenfield added touches of comedy to his juggling, like "accidentally" dropping an object, only to deftly snatch it on the rebound or send it caroming off a startled assistant and back into the flow. In January 1898 he began performing at local Masons halls and such venues as "Wm. C. Felton" but soon -- attired in tattered clothes and fake beard -- became "W.C. Fields, Tramp Juggler." By August of that year he'd secured a job at Plymouth Park, an amusement park in Norristown, PA. Proprietor J. Fortescue soon moved the popular young juggler to his Atlantic City venue, Fortescue's Pavillion.
A stint with a traveling burlesque show followed, which ended when the show's manager abandoned the troupe in Kent, Ohio. But Fields had fallen for a chorus girl, Hattie Hughes; he married her and made her his assistant. For the next couple years Fields played burlesque circuits in the East and Midwest, advancing steadily toward the top of the bill. In 1901 he made his first tour of Europe, and his silent Tramp Juggler act was a hit wherever he played. In 1903 Fields added his trademark routine, the trick pool table, and it wasn't long before critics heralded him as the greatest comedy juggler of his generation. Fields began his self-education around this time, filling a steamer trunk with volumes of the classics -- Dickens, Twain, Hardy, Milton, Shakespeare, Dumas -- and reading them voraciously between performances.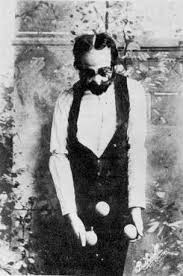 When Hattie became pregnant, Fields dispatched her to Philadelphia. She would never return to the stage, for it seemed she now preferred a more "respectable" lifestyle, and for the next 30 years Fields would send her a weekly check, although never an amount to her satisfaction. Hattie converted to Catholicism and did the same for their son, Claude, which further angered Fields, who felt religion was "for chumps," and the couple's relationship became a battlefield. Fields' later films would reflect this domestic anguish. But Fields, now in the highest rank of entertainment, continued to tour the world until 1915, when he settled in New York and began a long tenure with Flo Zigfield's Follies, co-starring with such luminaries as Al Jolson, Ed Wynn, Leon Errol, Bert Williams, Fanny Brice and Will Rogers. In this venue he juggled some but concentrated on developing comedy routines, most of which would later show up on film, such as A Game of Golf, The Back Porch, The Picnic, and The Stolen Bonds. He also appeared in competing revues such as George White's Scandals and Earl Carroll's Vanities. In 1923 Fields starred in a Broadway hit, Poppy, as Professor Eustace McGargle, F.A.S.N., a character into which Fields was able to funnel his experiences with con men, medicine show characters, fairground barkers and the like. Blended with a dollop of his Dickensian favorite Mr. Micawber, this synthesis formed one of the two charcters (besides the henpecked pater familias) that Fields would play from here on.
It was during these years that Fields, equipped with a little clip-on mustache, made his ventures into silent film, commencing with Pool Sharks (1915). Except for Sally of the Sawdust (D. W. Griffith's 1925 filmed version of Poppy), these early films fared poorly with critics and at the box office. It was also during these years that Fields gave up on his marriage and began a series of relationships with chorus girls. One of these led to an illegitimate son, William Rexford Fields Morris, born in 1917 to Bessie Poole, a Follies dancer. Poole gave the boy up for adoption and died 10 years later in a bar fight. (Fields had had Poole sign a document stating he was in no way responsible for the child, but in fact he supported the boy through adulthood. Morris would later track down Fields in Hollywood and show up at his door, asking to see his father. Fields reportedly instructed his butler: "Give him an evasive answer. Tell him to go fuck himself.")
In 1930, Fields made his first "talkie," The Golf Specialist, for RKO (at a New Jersey studio), featuring the golf routine he'd made famous in the Vanities and in a silent film, So's Your Old Man, and for the first time film audiences heard his distinctive, raspy drawl. The next year, with the popularity of sound pictures and the death of Vaudeville, Fields moved to Hollywood and soon found a home at Paramount Pictures. He stole the show in 1932's Million Dollar Legs, an oddball comedy about a nation of Olympic-calibre athletes, but tentative studio executives kept trying to "pair him up" with other comic actors like Alison Skipworth and Charlie Ruggles. In 1932 and 1933, Fields moonlighted with director Mack Sennett to make four shorts that would showcase Fields' stage routines: The Dentist, The Fatal Glass of Beer (a re-working of "The Stolen Bonds"), The Pharmacist and The Barber Shop.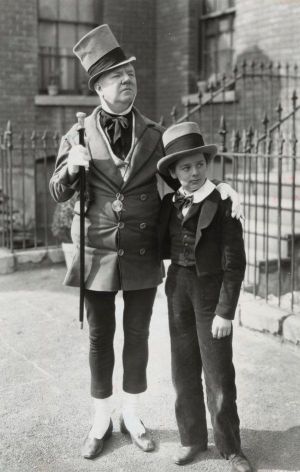 But back at Paramount, Fields gradually brought studio execs around, confounding them when he launched into ad-lib but mollyfying them with good reviews. In 1933, he stole the show in International House as Prof. Quayle, a "wrong-way Corrigan" who lands his autogyro on a hotel roof in China. Before long he'd wrested creative control of his films from the studio and began to rework some of his silent films. Though flops the first time around, these remakes began to catch on: You're Telling Me, a remake of So's Your Old Man(1926); It's A Gift , from The Old Army Game (1926); Man on the Flying Trapeze, from Running Wild (1927), and Poppy. And in 1935 he prevailed upon Paramount to lend him to MGM to play his favorite Dickens character, Micawber, in David Copperfield, a performance critics universally praised.
By 1936 his drinking caught up with him, and he tried to "dry out" a couple times. Paramount wouldn't renew his contract, so he accepted radio guest appearances (notably with ventriloquist Edgar Bergen and his dummy, Charlie McCarthy) that, to his surprise and delight, made him more popular than ever. In 1939, back on his feet, he negotiated a deal with Universal Studios, where he would make his most famous films: You Can't Cheat an Honest Man (with Bergen and McCarthy); My Little Chickadee, with Mae West co-writing the script; The Bank Dick, and Never Give a Sucker an Even Break (both described below).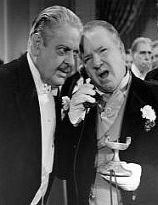 But Fields ignored his doctors' pleas for moderation, and his health once again deteriorated, and except for a few more cameo roles at other studios, W.C. Fields' career had come to an end. In 1945, crippled by arthritis and weakened by cirrhosis of the liver, he moved out of his Bel Air home into nearby Las Encinas Sanitarium, where in December 1946 he lapsed into a coma. He came out of it on Christmas Day long enough to wink to the friends gathered around his bed, then surrendered to "the man in the bright nightgown," as Fields had often characterized the Grim Reaper.
After a protracted court battle, Fields' wife Hattie was awarded his estate, valued at more than $700,000. His mistress of many years, Carlotta Monti, and his illegitimate son went home empty handed. Although rumored to have dictated an epitaph -- "On the Whole, I'd Rather Be in Philadelphia" -- Fields' columbarium niche at Forest Lawn in Glendale, California simply reads "W.C. Fields / 1880-1946."