The Faux Hofner
---
Many stories have circulated over the years about a special Hofner 500/1 with gold-plated hardware presented to McCartney. Most accounts agree that in 1964 Brian Epstein struck a deal with Selmer, the company that imported Hofner basses in England: McCartney would endorse their line of violin basses on little "swing tags" on each instrument (see photo below, from the Bell catalog), and Selmer would give Epstein a piece of the action (£5 a pop) and McCartney a swanky new bass.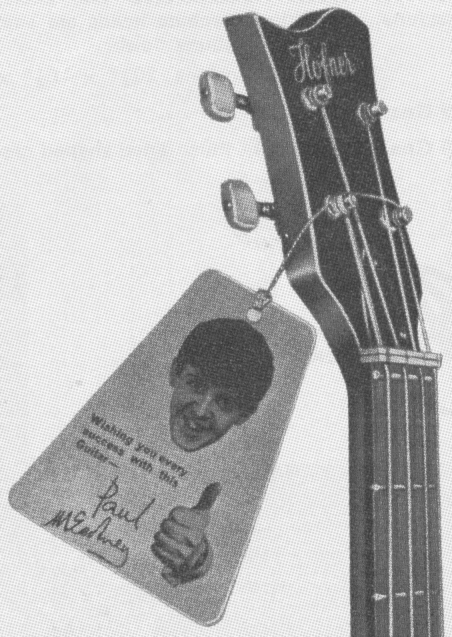 The most comprehensive scrutiny into this matter has been done by Andy Babiuk. In his excellent book Beatles gear Babiuk did a masterful job of unscrambling what happened after the ink dried. After Selmer made the presentation (the photos of the event have been lost), it apparently kept the special 500/1 to exhibit in an upcoming trade show, then either returned it to stock, which seems unlikely, or sent it to McCartney at NEMS or Abbey Road, where it was promptly stolen.
It surfaced the next year in a music shop in Luton, where a young bassist by the name of John Bunning bought it for £65. Apparently Bunning knew of the McCartney connection, because he bragged about it to a local newspaper, yet in '71 he traded it to a friend, as Babiuk reports. The friend sold it to Jim Marshall, who ran a music store in Bletchley. Marshall sold it to a fellow named Stephen Boyce, who played it for 10 years. After Mr. Boyce passed away, his widow sold it to a music store in Biggleswade for £200. That outfit called around looking for a replacement pickguard, and when they contacted Music Ground in Doncaster, an intrigued Justin Harrison bought the bass for £800. Harrison figured out what he had, calculated its value at £4,500 and offered it for auction at Sotheby's in 1994, but without proper documentation the bass didn't sell.
In '97 Music Ground tried again to auction the bass, this time in Tokyo through Bonhams, but their claim that McCartney had played the bass as a Beatle was shot down by various parties, including a British consumer-rights TV show -- and McCartney himself. Eventually the bass went at auction but for some reason the sale was never finalized, so Music Ground still has this instrument.
What can be said about this bass? Well, Paul McCartney touched it.
Note: In 2000, someone got hold of the paperwork on this guitar and brought it,
along with a late '90s reissue model, to the Rock and Roll Hall of Fame, where an inept curator declared it genuine and hung it on the wall.
When its true vintage was pointed out, this "fake faux" was taken down more or less promptly. Don't be afraid to ask questions, kids.