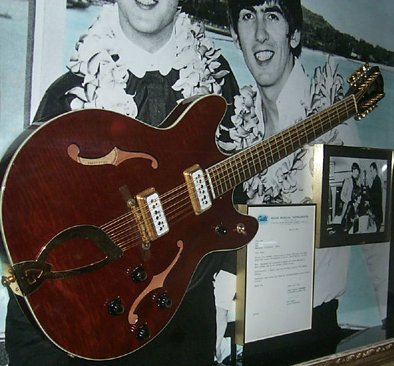 1966: Guild Starfire XII 12-string: While this writer and his friends milled around in the crowd outside New York's Warwick Hotel on 23 August 1966, in the banquet room inside this one-off guitar was presented to Lennon by Mark Dronge (son of Guild Guitars founder Alfred Dronge), now head of D&R HandMade Strings. (Read his account of the presentation here.) This guitar, styled like a Gibson 335, featured a special "flamed" maple finish and DeArmond pickups. An unsubstantiated report places it in the recording of "Getting Better." This guitar somehow wound up with Tony Cox, Yoko Ono's first husband. Cox sold the guitar to the Hard Rock Cafe, Honolulu, where it can be seen, along with a letter of authenticity sent by Guild to Cox in March 1980.

---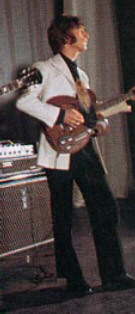 1967: 1966 Vox Kensington: This odd prototype guitar was a gift from Vox and shows up in the "Hello, Goodbye" video session shots (although not in the finished promos), but little else is seen of it save for a photo of Harrison with it rehearsing "I Am the Walrus" during Magical Mystery Tour. Contrary to other reports, there was only one of these models created. Mike (a.k.a. Mick) Bennett from Vox made this mahogany hollow-body guitar for the Beatles; after first displaying it at a 1966 trade show (below), Vox took it back to the workshop for the addition of some push buttons for special effects, then presented it to the band. Not long after, Lennon gave it to "Magic Alex" Mardas as a birthday present, and it is from this collection that it was auctioned at Christies (below)in April 2004.

Note: This guitar wasn't originally designed as part of the Vox Kensington model line but over the years has come to be referred to as such.