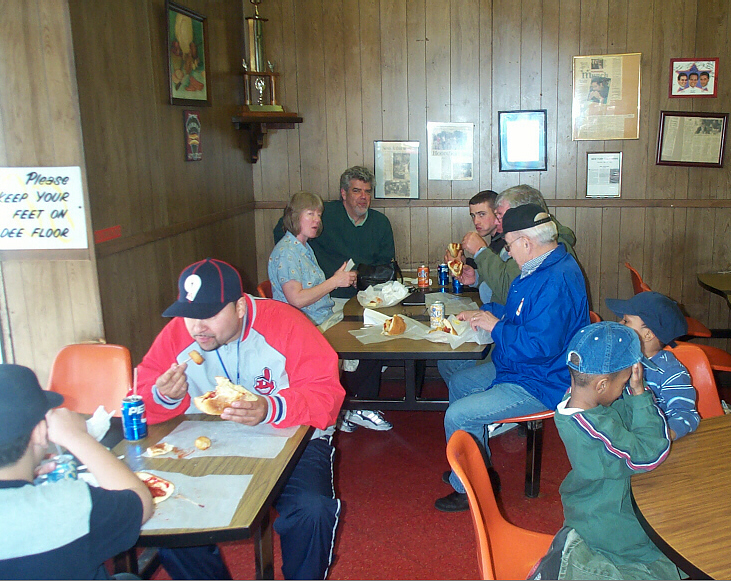 ---

Occupying a corner of the establishment -- not far from where Frankie Valli himself often dines -- the judges again dug into their mission. Joe confirmed that the DD dog was easier to eat and praised the crispness of the potatoes. Young John declared it "more flavorful. It felt healthier -- a good second choice." Both Bilbys enjoyed a Pepsi with their sandwiches. Joe used four napkins, while John, incomprehensibly, used only one!

Don, who ate his dog unaccompanied, declared "the potatoes were better at Jimmy Buff's, and the bread was better." He used two napkins. Mike, who also went through only two napkins, had high marks for the hot dog itself. "I enjoyed this one," he summarized.

Bob, who also enjoyed a C&C orange soda, initially deferred on an appraisal. "Ask me later, when I'm gobbling Tums," he said. But he soon admitted that he preferred the potatoes, onions and peppers at Buff's but that the bread "was a tie." He used three napkins. Pat declared the dogs a vitual tie but added that Buff's "had a nice old-fashioned flavor." A more telling indication of her enjoyment, some would say, was her use of no fewer than six napkins for this sandwich.

For my own part, although I enjoyed Buff's potatoes, I found DD's bread and condiments superior to Buff's, and the sandwich easier to eat. I had cleansed my palate with a C&C cream soda, and used but four napkins. Additionally, I preferred the unmistakable Newark ambience of the joint.

And then it was time to vote.