Fab Guitars of The Fab Faux
---

My favorite Beatles tribute band adheres to the notion that "It's about the music." But to a guitar freak like me, a visit to a Fab Faux performance is also about the instruments. At their shows, Frank Agnello, Will Lee, Jimmy Vivino, Jack Petruzzelli and Rich Pagano treat the audience to great music and an impressive array of the tools of the trade, duplicating many of the Beatles' stage and studio instruments. On a stifling hot July evening I dropped by the Bowery Ballroom -- before the air conditioning had been turned on -- and had a close-up look at the band's guitars. Also included here are photos taken later, as new guitars made their appearance. Many thanks to Judy Hennessey and Sandrine Lee, who contributed photos to these pages.
Thanks to all the guys for taking the time to show me their equipment and talk a bit about it. And special thanks to Frank -- an excellent scribe in his own write -- who went the extra mile to help with the information.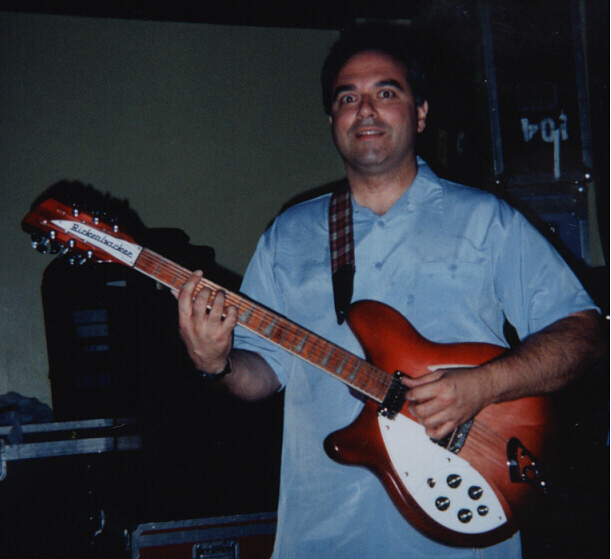 ---

Frank Agnello's first guitar (age 8) was "a plastic Emenee Tiger
guitar and accompanying amp -- Christmas '65. I vividly remember
'We Can Work It Out' playing at the lot as we picked our Christmas
tree out, a few days earlier . . . "
---

In the photo above: Frank's 1997 Rickenbacker 360-12 ('65 style), which he had on order for more than a year. At the show, when I saw him put a capo on the seventh fret, I knew "If I Needed Someone" was imminent.
Copyright 2003, 2006 John F. Crowley