The Undertakers, who counted the Beatles among their fans, were one of more than 300 Merseyside rock and roll combos but earned a special place in Scouse hearts. Their sound is summed up nicely in their allmusic.com entry: "With the saxophone, and the thumping beat favored during this period, they sounded very slightly like the Dave Clark Five, but Jones was a more articulate player than that, and [Huston's] lead guitar always made the group's sound pretty complex, and Lomax was an incredibly charismatic soul singer, the Merseyside rival to Eric Burdon and maybe better than that. "

The group turned down a management offer by Brian Epstein and enjoyed limited commercial success. Their first two singles -- "(Do The) Mashed Potatoes" b/w "Everybody Loves A Lover," and "What About Us" b/w "Money" -- didn't chart well, although the latter rivaled the Beatles' verison, but their third single, "Just A Little Bit" b/w "Stupidity," became a Top 20 hit in England during the summer of 1964.

Dissatisfaction with their producer led them to leave Pye and move to America, where they hooked up with New York entrepreneur Bob Harvey and his partner Bob Gallo, who were also handling Pete Best. The group endured some rough sledding in this period, but recorded one single, "I Fell In Love," written by Bob Bateman, played whatever gigs they could scrape up, and when not taking a back seat to the Pete Best Combo, managed to record an album, Unearthed (1965), which went unreleased for 30 years.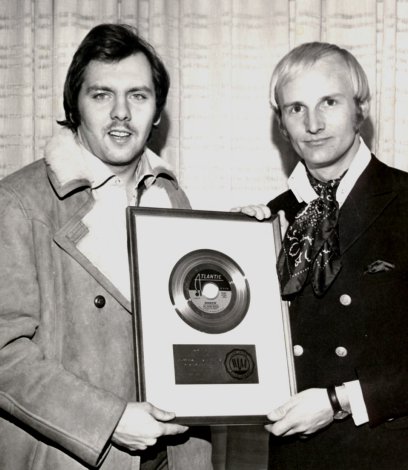 When the money ran out, the Undertakers went their separate ways, and Huston stayed in America, carving out an impressive career as an engineer and producer, working with such talents as Led Zepplin, the Who, War, the Rascals, Todd Rundgren , Van Morrison, Blood, Sweat & Tears, Mytch Ryder & the Detroit Wheels, Ben E. King, the Drifters, Patti La Belle & the Bluebelles, Solomon Burke, Mary Wells, Wilson Pickett, John Hammond Jr., James Brown, ? & the Mysterians, Robben Ford, Eric Burden and many more. Among his accomplishments are several dozen Gold and Platinum records (such as the gold disc for "Groovin,'" pictured above, with Rascal Gene Cornish), as well as a Grammy (for War's "The World Is a Ghetto" ).
In addition to his many years in the studio, live and remote recording all over the world, and his work on numerous movie sound tracks, radio and TV commercials, Huston launched a career as a designer and acoustic consultant, with projects as varied as recording studios and control rooms, radio stations, dubbing and Foley/ADR stages, rehearsal studios, night clubs, video stages, video editing suites, home theaters, home studios, restaurants and churches.
Huston also lectures extensively to architects and designers on acoustics in building design and residential / industrial noise control. One of his most satisfying experiences is his lectures to graduate-student recording engineers on recording techniques and record production.
---

Huston saw Lennon for the last time in 1980, "at the Cherokee Recording Studios, a short while before he was murdered, actually -- three or four months. He'd come in to see Ringo. I was in one studio, producing a session for Lonnie Jordan, the lead singer of War, for a solo album, and Ringo was working in another studio. So John comes walking in with Yoko, and I'm coming out of my control room, he's in the hallway, and just then Ringo comes out, and John says, 'Hey Ringo, look who's here, it's Chris Huston, the Undertaker!' Ringo says, 'I know, he's been here all week,' So he goes back into his room, and John and I start talking, you know, just leaning in the hall for a bit, then we went off into the lounge and talked for a while . . . with friendships like that -- I mean, I didn't see him for 15 years, and our lives were so separate, but we had such a background that you pick up where you left off. There were never any airs . . ."
---

Having made his mark in the recording studios of New York and Hollywood, Huston now has his headquarters near Nashville, where he lectures at Middle Tennessee University and keeps his hand in production. It's a long way from his beginnings in Merseyside, but he carries many happy memories of that place and the people he met there. He still has a creased Polaroid photo of the Beatles -- with Pete Best and Stuart Sutcliffe -- rehearsing at the Top Ten Club, taken by the cigarette girl. "It was a very special time," says Huston. "You know, we didn't always realize it. If I'd known it was going to be important, I might have taken notes."